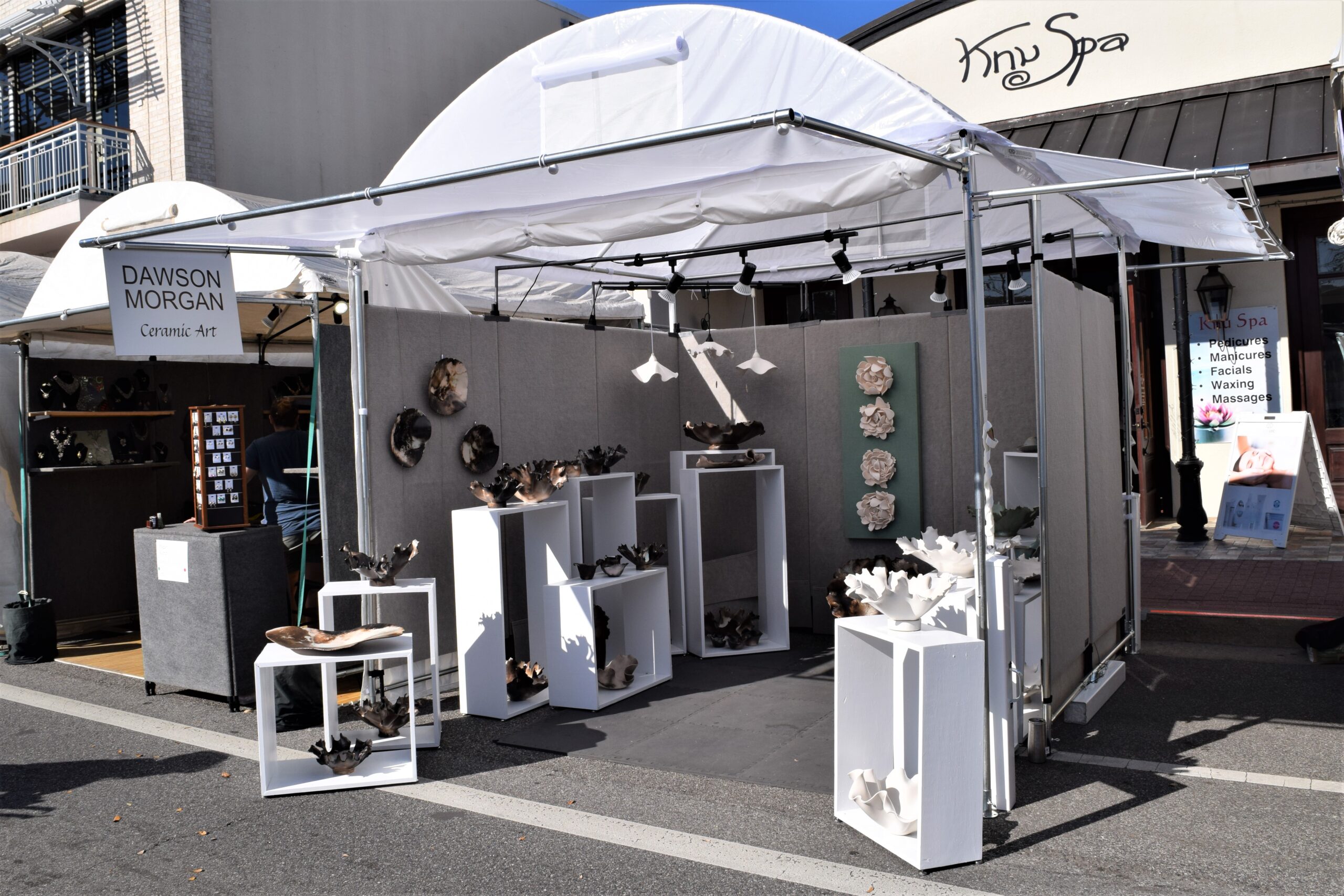 Pensacola here comes Dawson Morgan Ceramic works of Art!
Dawson Morgan Ceramic Works of Art (you all know it is just me, right?) is finishing up new pieces of art and trying my artistic mojo in Pensacola, Florida at the Great Gulf Coast Arts Festival.  My tent will include the smaller Raku Oyster Bowls, Wall Flowers, Light Sculptures, a few Verdigris Bowls and  larger white centerpieces in the Splash Collection.  This will be a new show for me; first timer at GGAF.  I'm nervously hoping that my ceramic art will be a good fit for the Pensacola art festival clientele.  Also possibly more important than purchasing patrons, is that the weather will be nice, no high winds whipping through breaking my work.  Fingers crossed please, for both.
The Great Gulf Coast Arts Festival will be different for me.  I thankfully (Anna I appreciate the sweet heads up) have been made aware that my tent is not on pavement.  Errr, ummm? What?  My booth, with all my breakables will be on mulch in the middle area of the park, located at Rockwell 5.  Thus, Ceramic Works of Art's mandatory investment in tent flooring has ensued.  Talk about an oxymoron "tent flooring" ha, that is not usually how we camp out in a tent!   I hope that our home designed pedestals (complete with leveling feet) will work out on said new "floor" considering the terrain.
The short of it… first weekend in November is The Great Gulf Coast Art Festival, 3rd-5th.  GGAF.org I will be there! Rain or shine, with a perfectly level floor or not, new works from Dawson Morgan Ceramic Works of Art dawsonmorgan.com will be available.  I hope if you are in my area that you will take the time to stop by and say hi, see the work, and possibly fall in love with a piece or two.  If not please keep up with my studio on facebook.com/dawson.morgan.ceramic.art.